Page relevant: Temple Colston Girls' School history / old pictures, Temple Colston Girls' School
Temple Colston Girls' School
Pre 1970 Image / Content History Project

---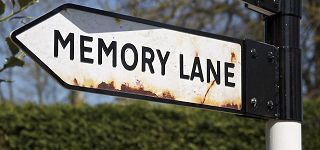 Leave your comments, click to Memory Lane

---
Temple Colston Girls' School
Temple Colston Girls' School - Victoria Street in 1953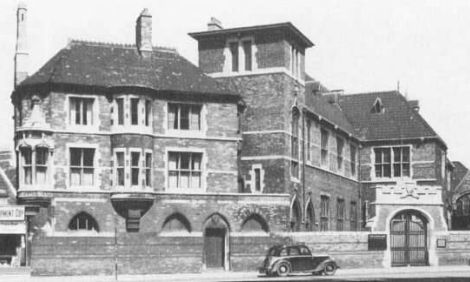 Built 1871, demolished in 1973. Image from "Bristol as it was
1940-1960" by Reece Winstone
The Temple area of Bristol had some of the first schools in the city. In the early years of the 18th century the parishioners of Temple Church, urged on by their vicar Rev Arthur Bedford, pledged to subscribe £35 annually to fund a school, to which Edward Colston promised another £10 annually.
In 1709 Colston's Free School, a school for thirty boys was opened. two years later In 1711 Edward Colston endowed it with an annual fund of £80 for the education and clothing of forty boys of the parish.
Colston provided further financial support to the school, covering most of the cost of the school building in Temple St, close to the site of the school in the photo.
In an 1841 report of the Charity Commission the teaching provided is said to be in reading, writing, ciphering and the Church catechism. The school later opened to girls as well.
(Became a girls only school in or before 1871 - details unknown at this time)
When Victoria St was cut through from Bristol Bridge to Temple Meads in the late 1860s the school was relocated to this new building on the new street line. Built in 1871 it was named Temple Colston School after its two main benefactors.
In 1967 co-educational Temple Colston School merged with St Mary Redcliffe Boys School and the resultant comprehensive voluntary aided school moved to a new site in Somerset Square. This lovely building in Victoria St was demolished in 1973 to be eventually replaced by today's Novotel.
Temple Colston Girls' School 1951 and 2016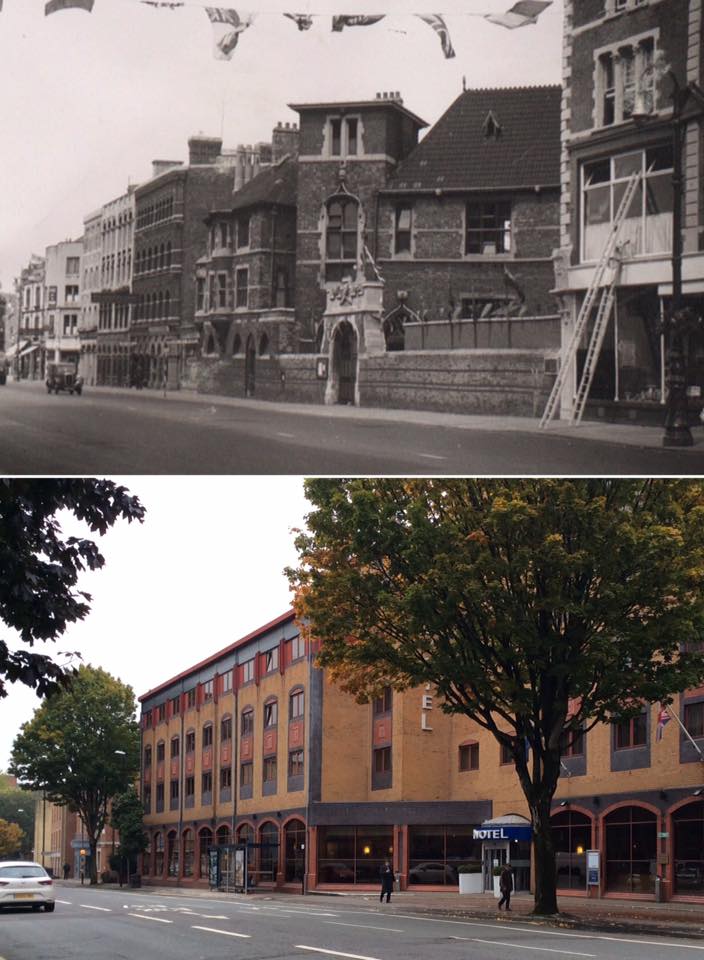 Click image to enlarge
The 1951 photo above shows Temple Colston School in Victoria St when it was still surrounded by its Victorian neighbours and ornate street lamps. No evidence of H&S on the right where un-stabilised ladders lean against plate glass windows.

A Temple Colston class photo from 1949 - Teacher Miss Munday
TCS Backdrop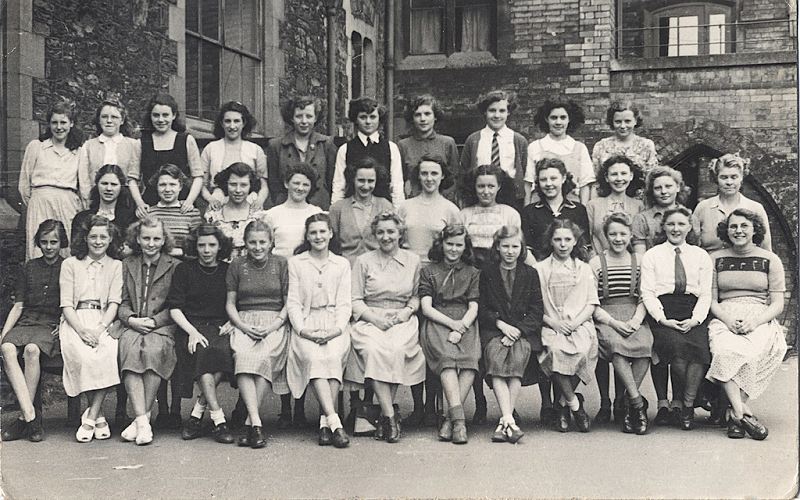 Click image to enlarge
Barbara June Thomas - Middle row, 7th from the left

Class photo from 1961/2 - Teacher Mrs Gwynn-Williams (Maths)
TCS Backdrop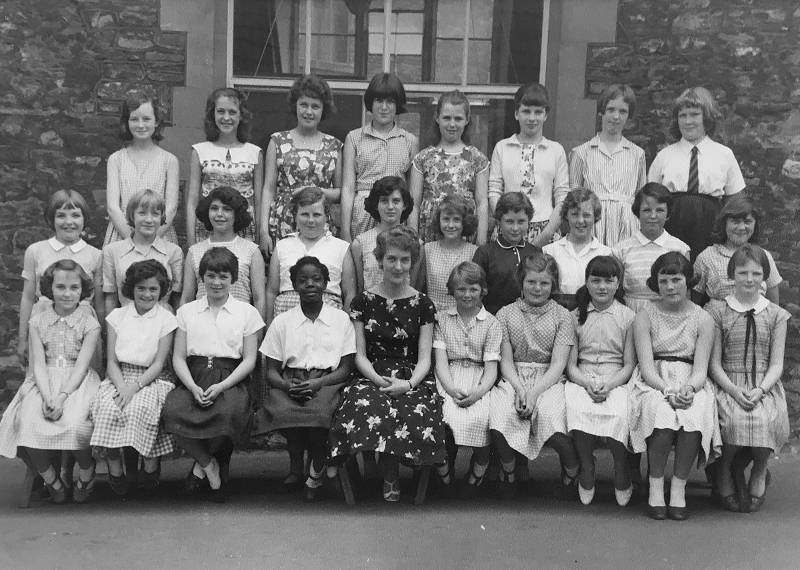 Click to enlarge

Class photo from 1963/4 - Teacher Miss Sharman
Temple Church Backdrop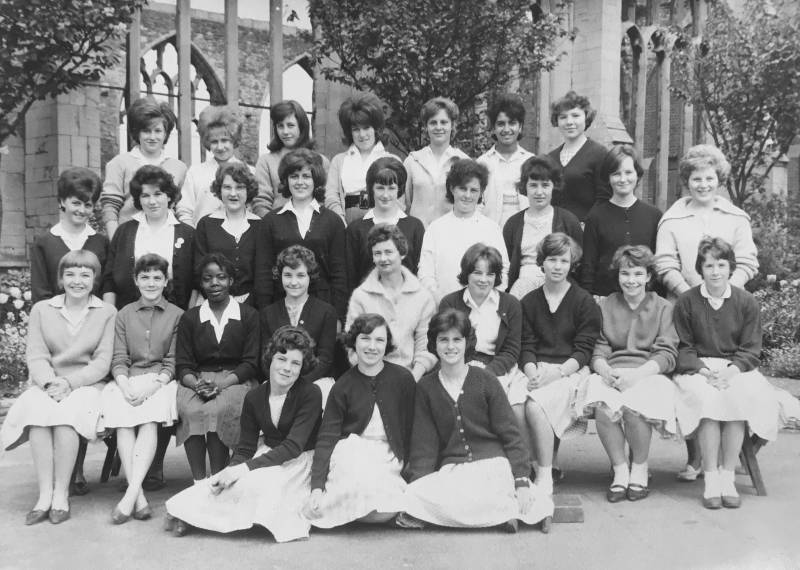 Click to enlarge

Class photo from 1965, a pity it's so small. - Teacher ??
Temple Church Backdrop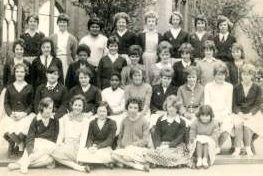 Back row left to right Carol Ginjal Susan Radnedge,
Ivy Greentree, Susan Hazel, Angela Pratt.
Next Row Margaret (?) Hazel Gardiner, (?) Matthews,
Valerie Bolton, Helen (?), Pamela Pullin, Carrol (?).
Next row Jennifer Sykes, Denise Cunningham, Joyce Usherwood,
Caroline Novara, Linda Wilcox, Anne (?) Rachel Hollier
Bottom row Mary Hook, Christine Harris, Julian Owen.

Half a class photo from the mid 1960s? - Teacher Mrs Eden
Temple Church Backdrop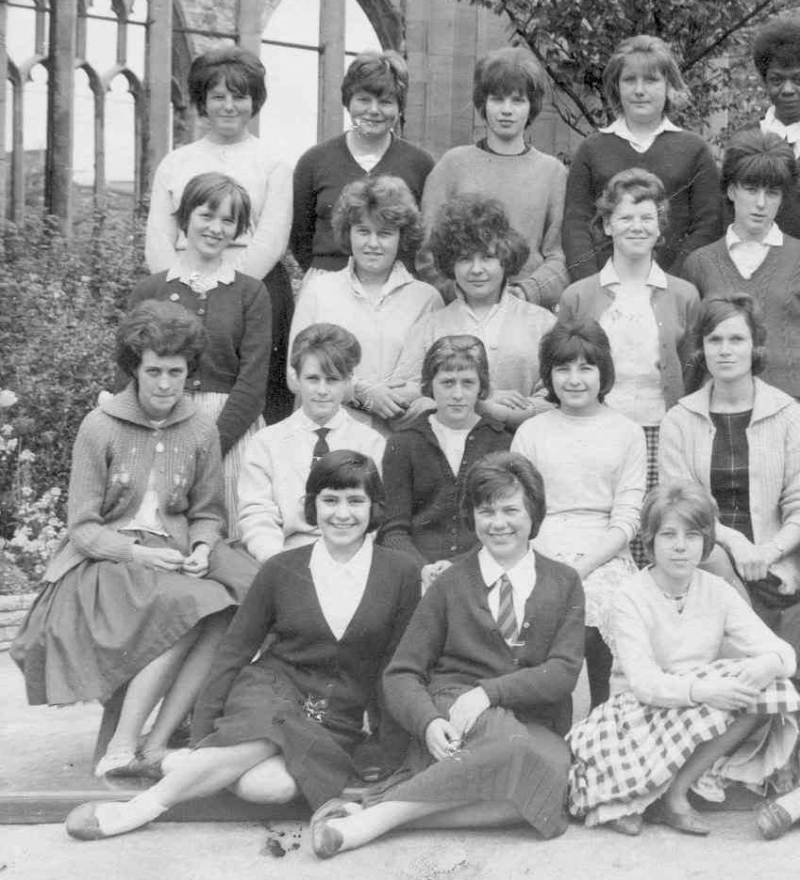 Click image to enlarge
Top row 4th along Mary Nash and far right Claudette Robinson
3rd row, s 2nd along Kay Hughe, 3rd along,
June Harper, 5th along, Monica Lucas
Bottom row 3rd along Linda Heath.
Thanks to Christine Guest (nee Hale) for the names. Unfortunately Christine is on the
missing half, please get in touch if anyone has the complete picture.

Class photo from 1966 - Teacher Miss Britton (English Language)
Temple Church Backdrop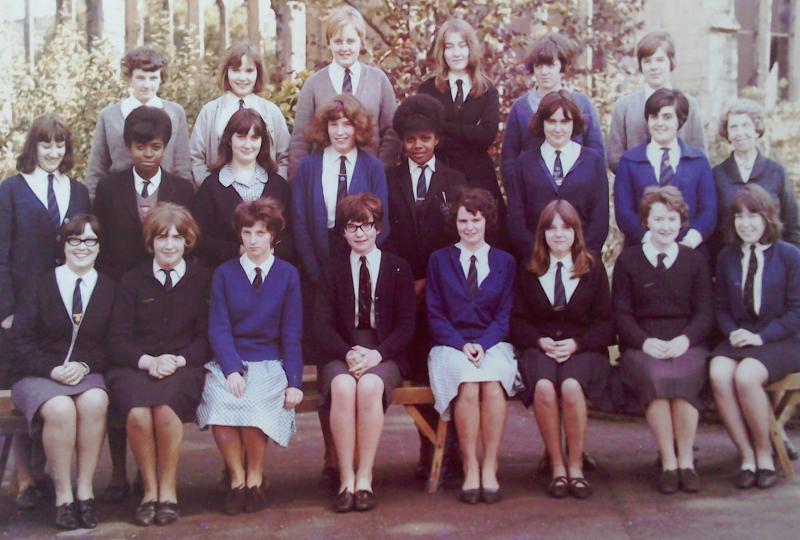 Click to enlarge
Some names: Joy Keegan, Lorraine Bryant, Julie Briggs,
Margaret Smart, Christine Potter, Sandra Cowle

---
If you have any other pre. 1970 images, memories,
stories or other historical information relating to
Temple Colston Girls' School that could be displayed
on this page (with a credit to you of course)
please attach them to an email and .
radical_solutions (at) hotmail (dot) com

---
Thanks for contributions go to: Jilly Edwards, Julie Warburton,
Andy Bearder, Jan Crayman-Smith
Page posted by Dave Powell
Greetings to anyone who knew or taught me in those, now distant, days.