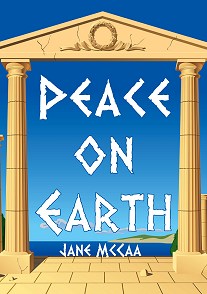 Read first chapter here

(Download Word .doc)


Peace on Earth
When the Delians are invited by the beautiful, rich, important and famously neutral planet of Eirene for a state visit, it is a major diplomatic coup. All seems to be going well - until royal visitors ZoŽ Arete and Peter Minyas find the body, and the invading army finds them.
As the Delian survivors flee across the sands and the mountains and try to rally the few Eirenians ready to resist, wider war looms and the galaxy holds its breath. While ZoŽ and Peter have to face the painful legacy of old wars, a journalist, a young officer and a doctor find themselves at the centre of the new one. But is all as it appears to be, and who will prove to be true?
In the end, everyone will have to face the questions: just how much does peace cost, and who will have to pay?
Peace on Earth is the second book in the Delos series, which continues with Rites of Succession